Redefining Sports in Singapore
Case study of ActiveSG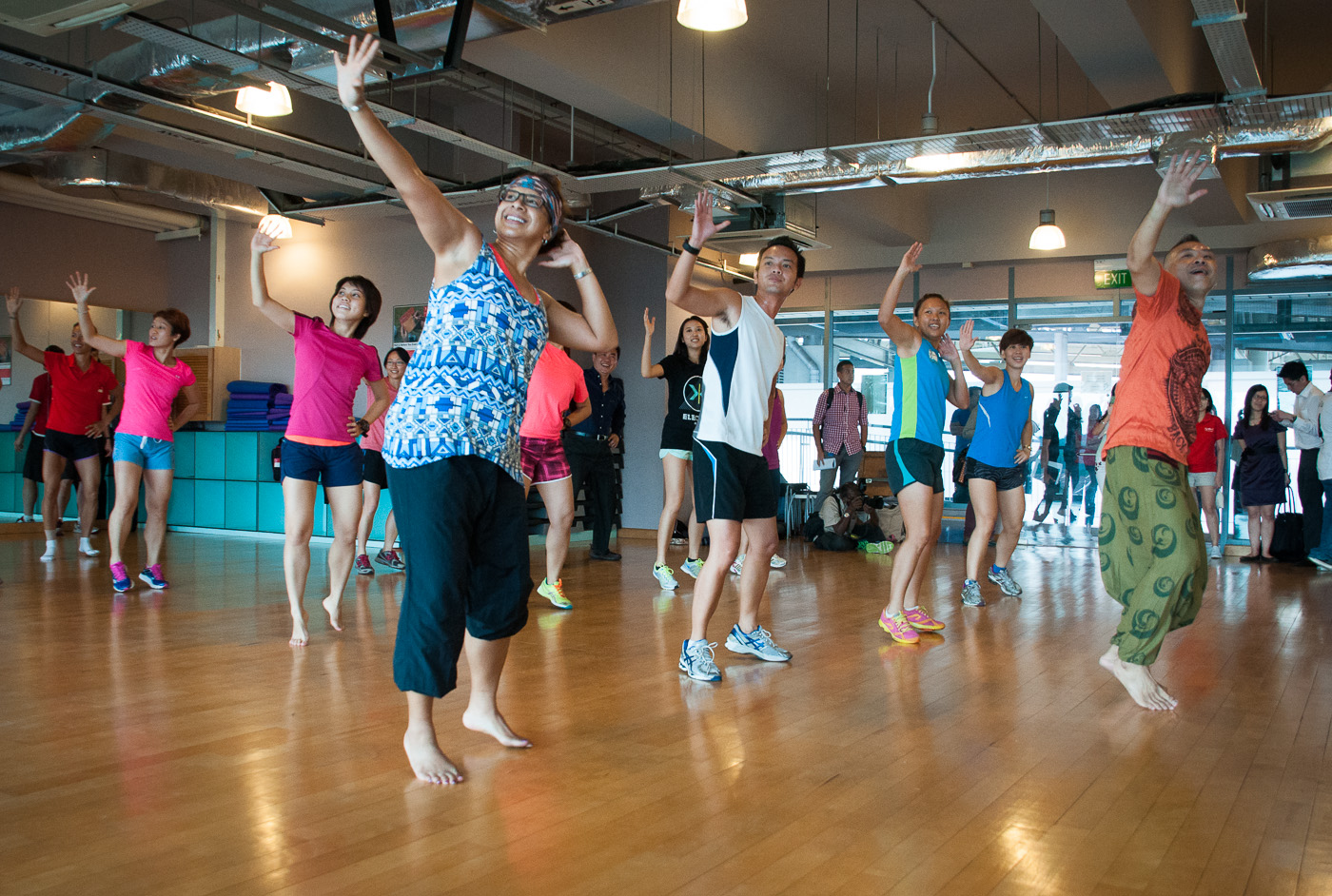 How did it start?
Recent reports have emerged that badminton players are having a difficult time reserving public sports facilities, with some even resorting to buying slots from resellers on platforms such as Carousell and Facebook. This has prompted us to relook the UX and UI of the ActiveSG app.
Possibilities
ActiveSG has ability to -
Influence people's lifestyles

Enhancing physical, mental and social well-being
Overview
ActiveSG is an all-encompassing and inclusive national movement for sport. The app serves to encourage healthy living through campaigns and facilitates the booking of programmes and facilities offered by Sports SG.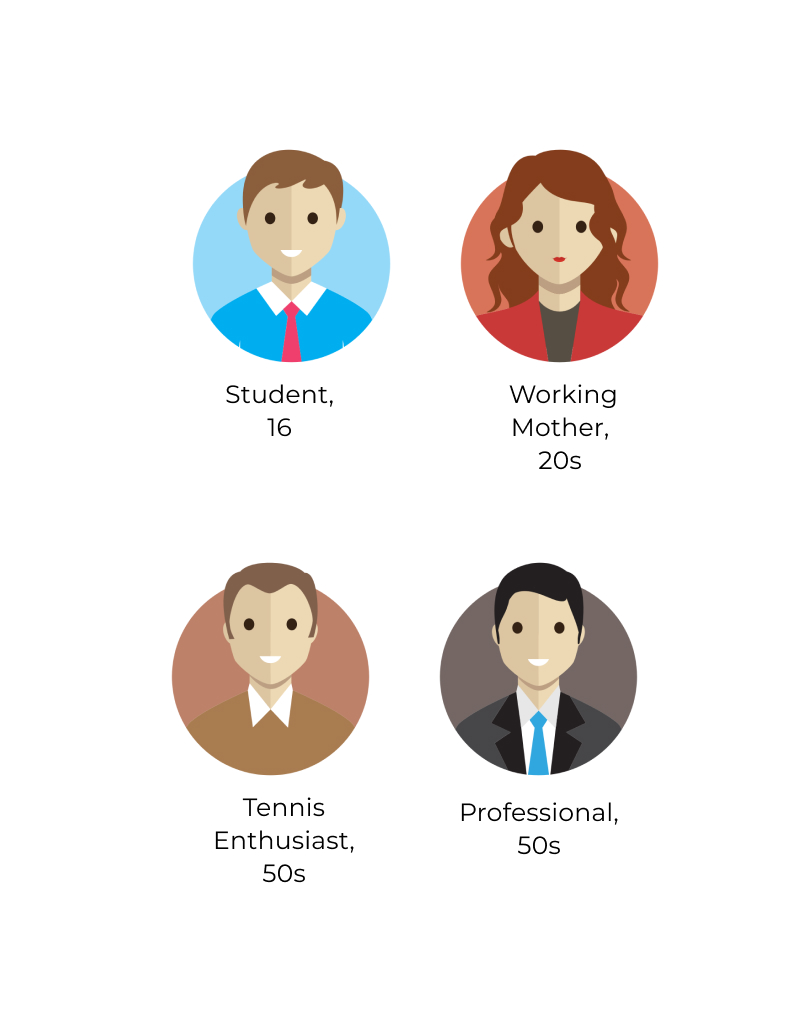 Contextual Inquiry
At the discovery phase of the project, we conducted informal interviews in order to get a better understanding of the problem.
Findings from 4 users
Only booking function is utilised


Exit app after three unsuccessful attempts


Some users 'camp' early in the morning to book for courts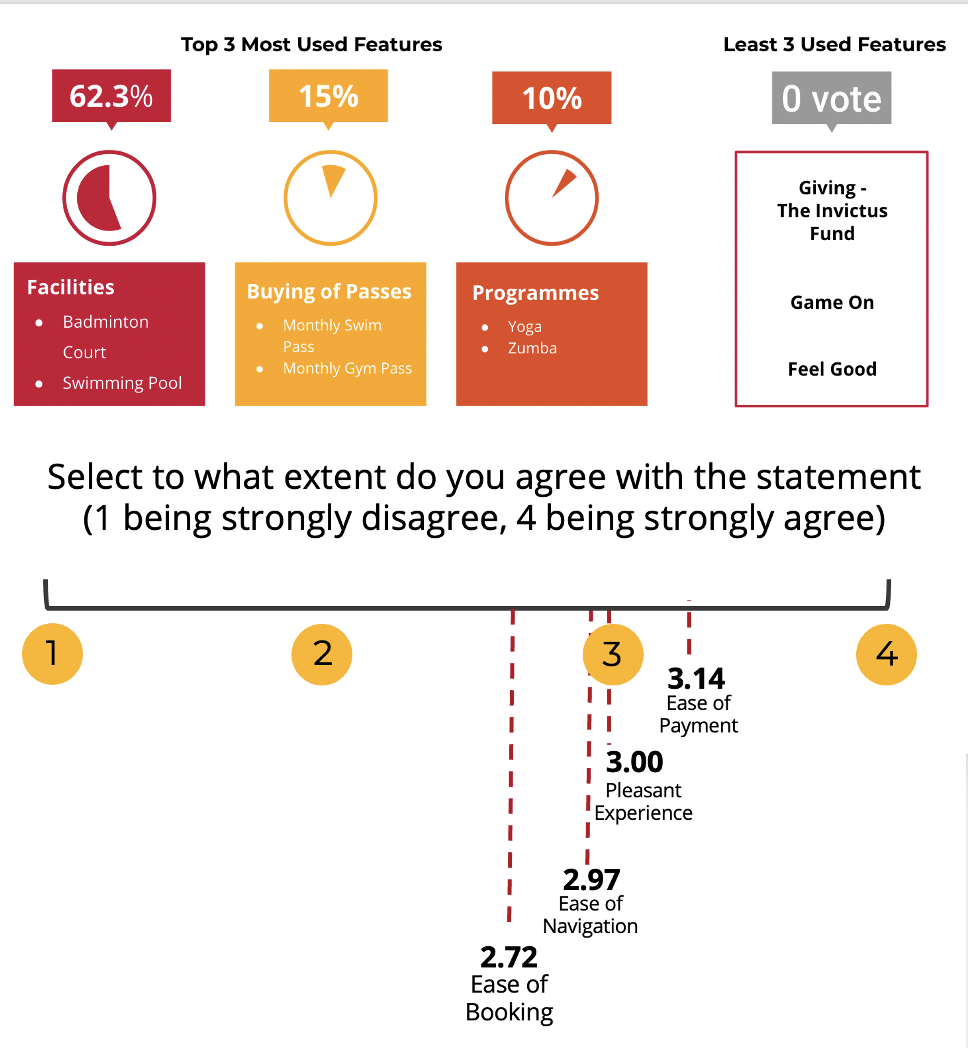 Surveys
After we had a better idea of the common pain points, we wanted to gather more in-depth information. We set up an online survey and got 77 respondents to fill them up.
Findings
Lack of available slots


Too much information on app


No shortcut for users


Hard to remember bookings
Personas & Customer Journey Map
Based on the interviews we set up two personas. We referred to them throughout the entire product development process.
We chose our user personas based on our affinity diagram, where we tried to map out the most common pain point and who they are faced by. Our two final personas were Aaron and Farisah.
To understand how customers find and interact with the service we created a Customer Journey Map for both Aaron and Farisah. While both users were somewhat able to reach their desired goal at the end, they faced frustrations in their process of so doing. Their pain points and initial suggestions to the pain points are as highlighted below.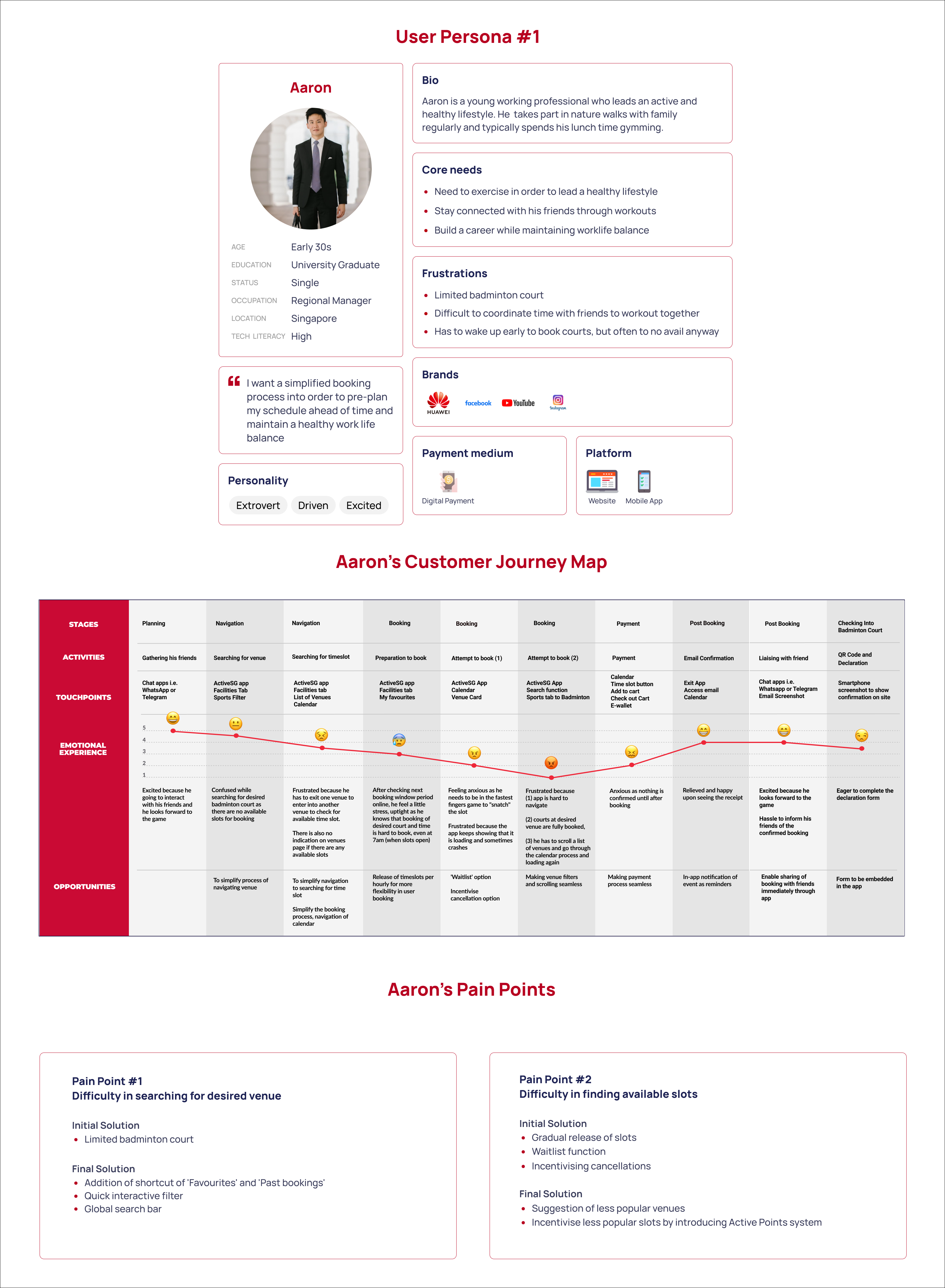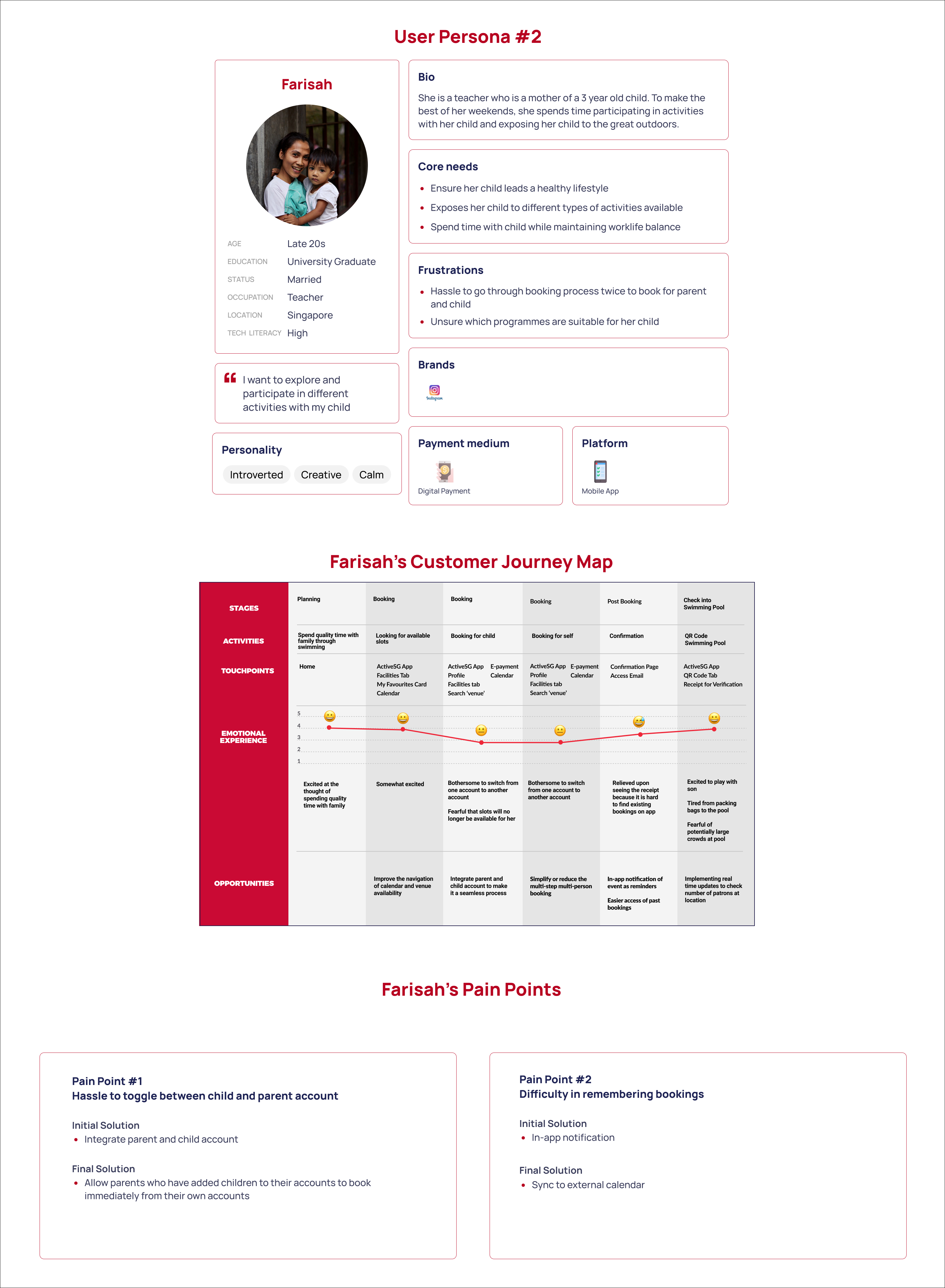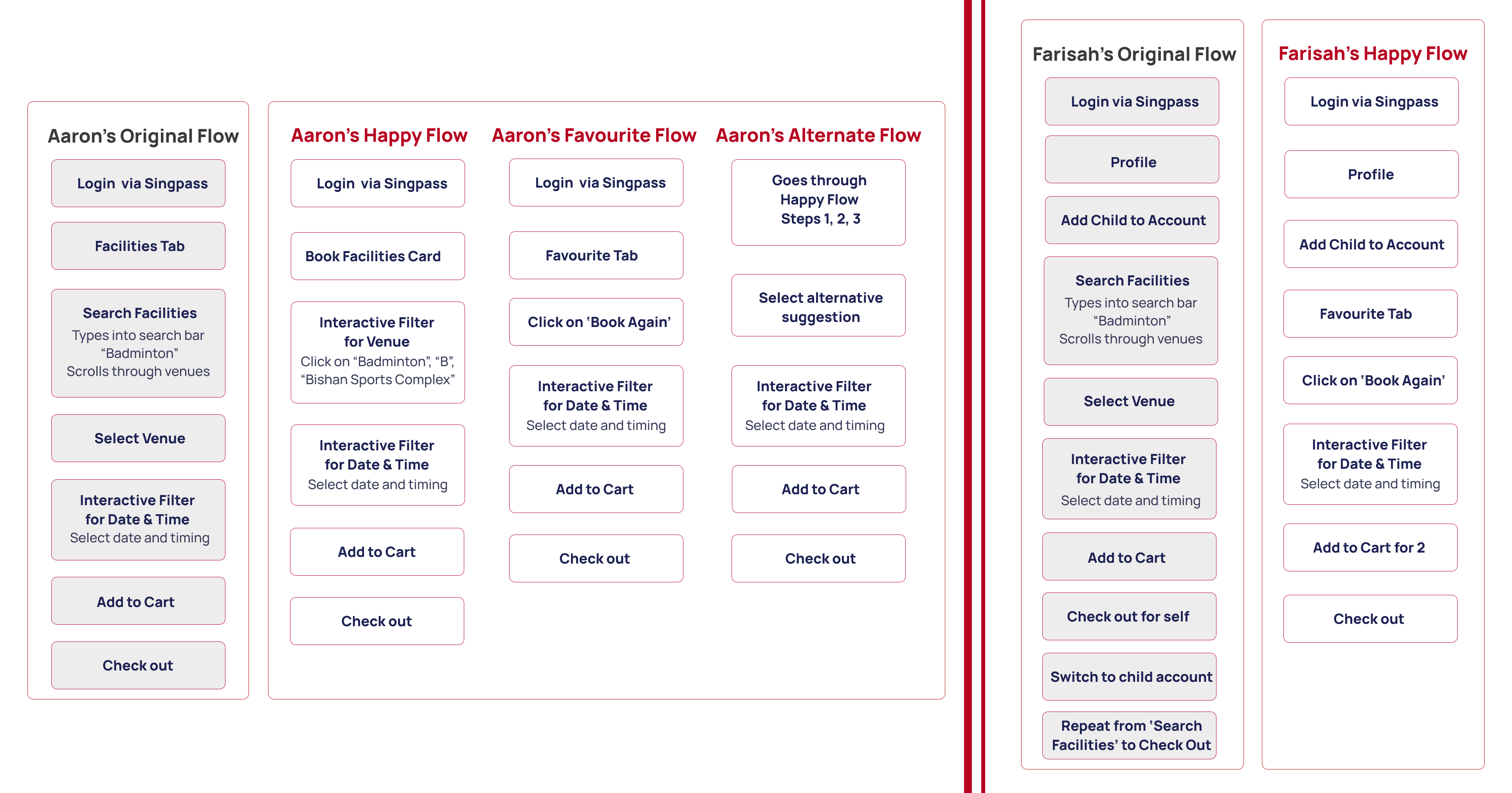 Wireframes
At the beginning of my design process I created wireframes for testing purposes using Figma.
In this iteration of wireframe, these improvements have been made:
Addition of search bar on homepage


Sleeker, cleaner card titles on homepage


New set of global navigation


Suggestion of other available courts and programmes based on users' activity history


Incentivise booking of less popular programmes and activities through introduction of Active Points


Simplified filter process using interactive elements


Parents are able to book on behalf on child
using their own accounts


Users are able to add booking to calendar and share bookings with friends
What have you learned from this project?
Speedy response time vs Quality
UX/UI projects are intense and fast-paced which allows real time response to users' problems but faces the threat of its quality being compromised.
Learning to differentiate the importance and priorities of users


Users may not necessarily know what they want