Subway's
Beat My Track Record
Gamifying your steps
Subway approached Sqkii back in 2021 to work on a campaign which can help to promote healthy living in Singapore. Our games designer came up with a rough idea and I worked on the game as the UX Designer in charge of this project. The end product was a game that motivated participants to walk more and avoid a sedentary lifestyle using gamification. Users will be rewarded with $3000 worth of cash prize should they be in the lead for the stipulated periods. This campaign was ran from July to October 2022.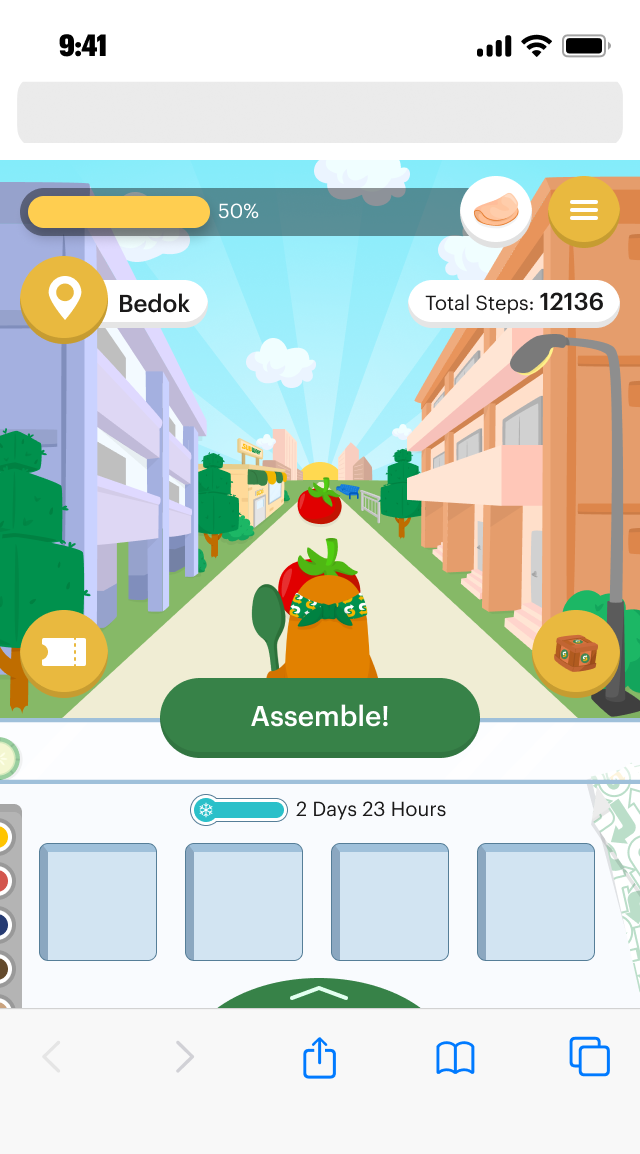 The Big Idea I
The main principle of the game is simple - get Singaporeans to move! Anywhere! As long as they do.
Following this principle, the game was designed such that as long as the users move, the GPS will pick it up and gets the character moving in an endless straight linear road to collect all sorts of ingredients that will then be kept fresh in their fridge.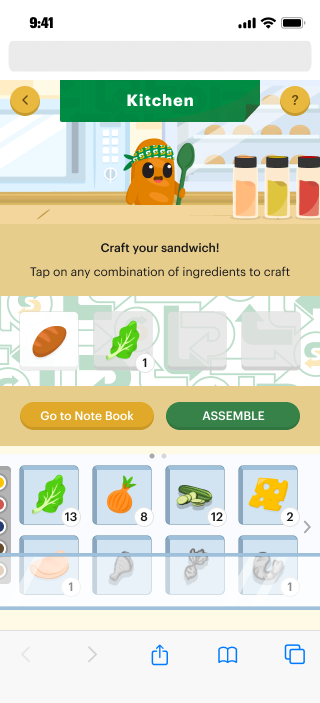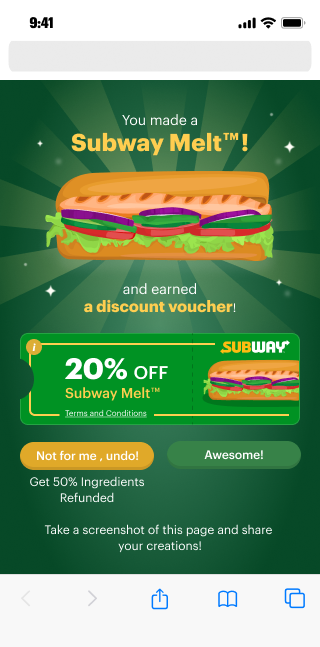 The Big Idea II
After collecting as many ingredients as they can, the users can then head on to the kitchen to craft out a sandwich. They can choose any combination of 4 types of ingredients in any numbers (i.e. I can select 12 cucumbers in my sandwich if I'd like). For whatever combination is produced, they will then get a voucher as a reward!
"If the problem affects you. You must solve it."
― Vineet Raj Kapoor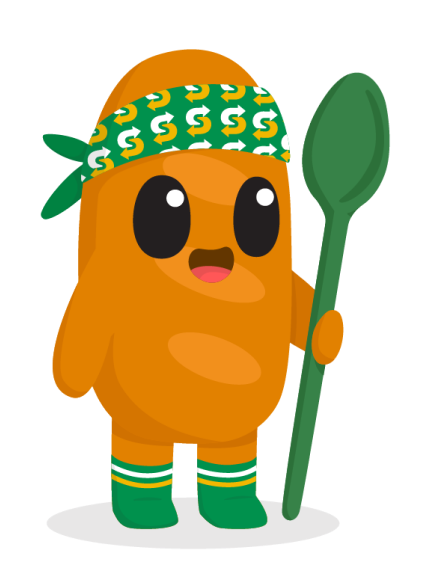 #1 Marketing Subway
As much as this was a game to promote healthy living and to get Singaporeans out of their sedentary lifestyle, it was as much to market Subway and get users to consume more Subway at the end of the day.
To motivate consumers to patronise Subway, there were two key questions we had to ask ourselves.
Firstly, how may we ensure there is incentive for users to go purchase Subway? - even if they hadn't gotten any vouchers yet.
Secondly, how may we simplify the process of redeeming the vouchers in the game?
How may we ensure there is incentive for users to go purchase Subway? - even if they hadn't gotten any vouchers yet.
To do so, we implemented a lootbox flow. A lootbox is given every time user makes a purchase at Subway - and that helps to publicise the games to people who don't know about the game too! The flow is kept simple - just by scanning QR at the Subway counter and users get a bonus in the game. For avid game players who are keen to win the $3000 worth of prizes, this is definitely a way for them to speed up the process of so doing.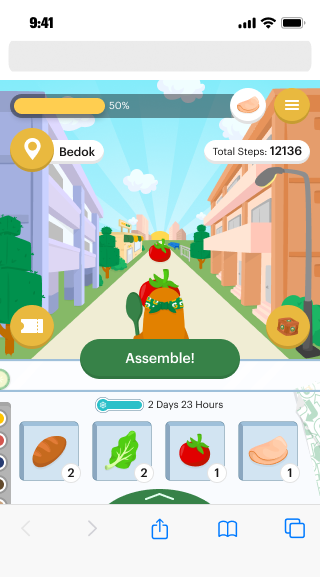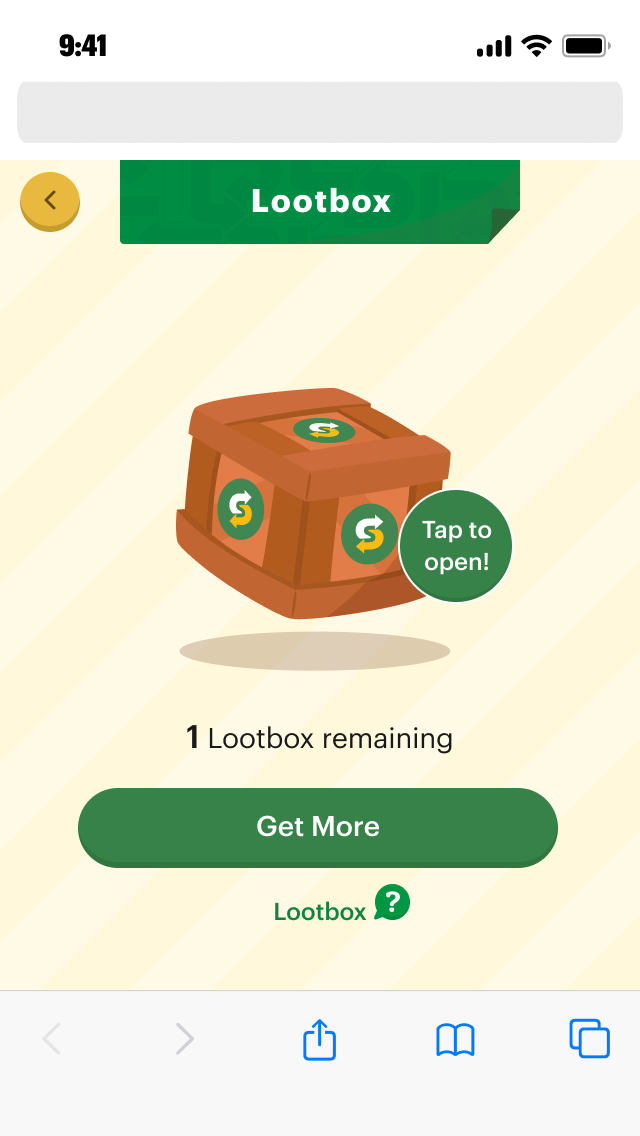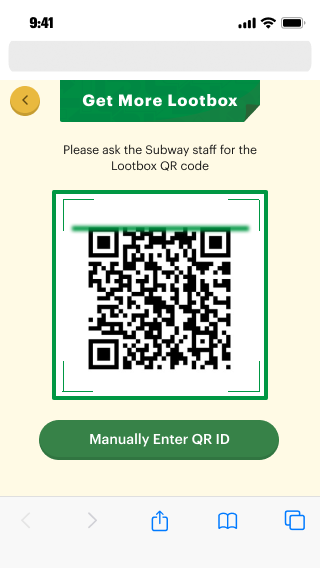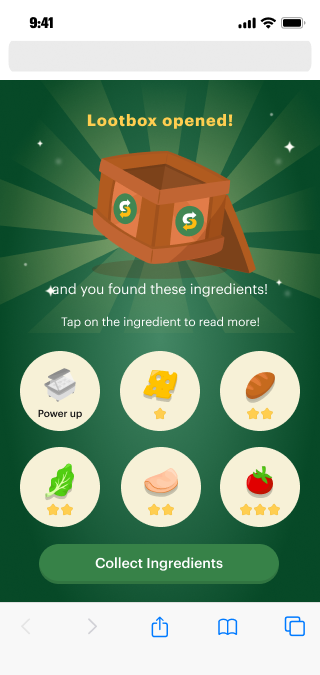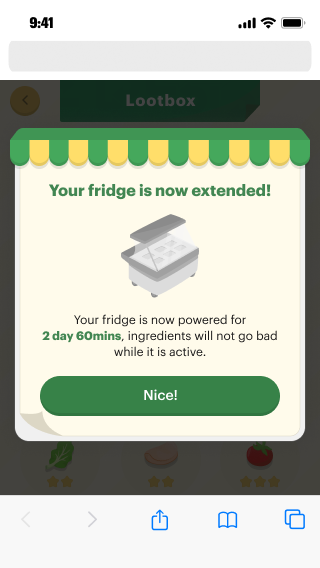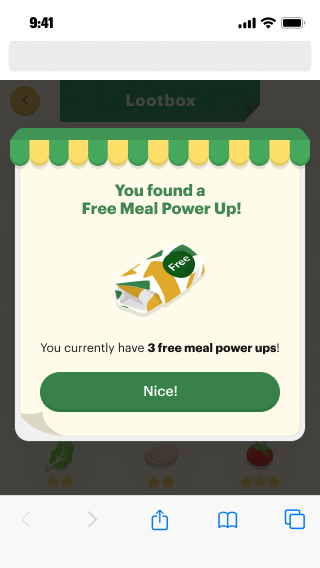 How may we simplify the process of redeeming the vouchers in the game?
We can give away attractive vouchers, but that in itself is useless if they are not utilised by users. To facilitate the process of redeeming, we kept in mind that Subway in Singapore is very much a franchise and information across outlets may not necessarily be equally distributed. Hence, to simplify the process of redeeming and reduce staff training - we had an inventory where users can find all of all their vouchers easily and implemented a one step swipe process for redemption!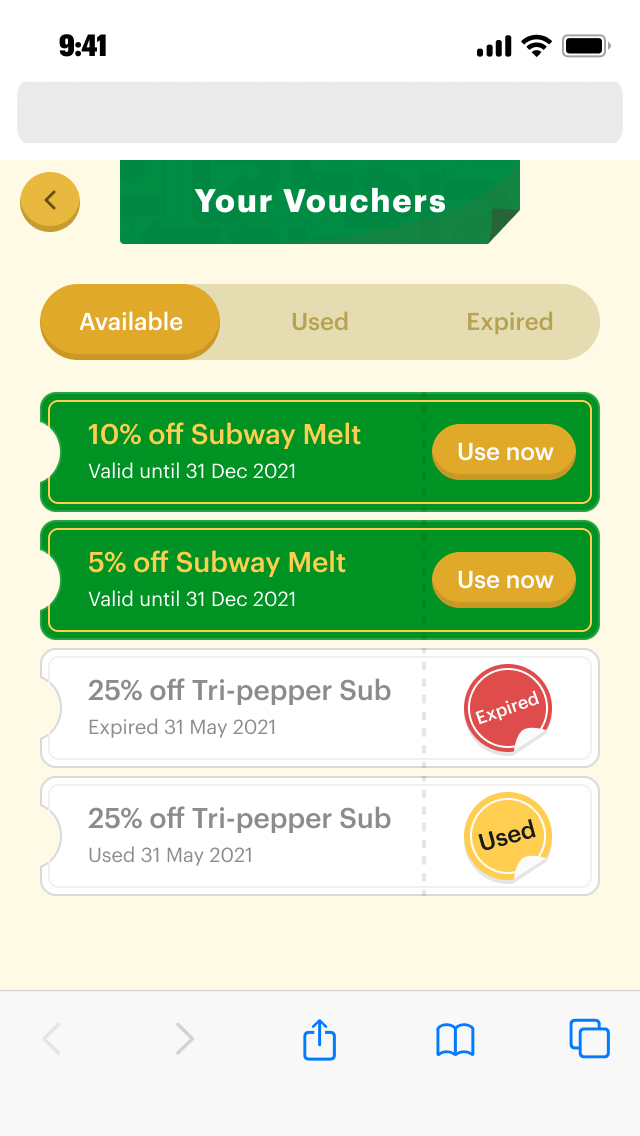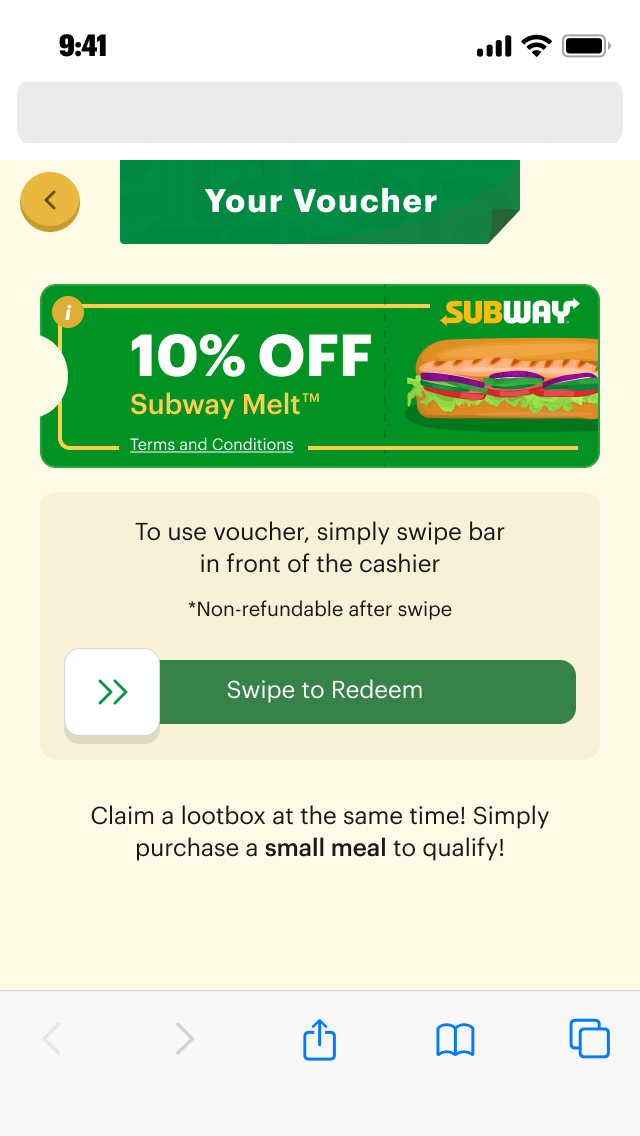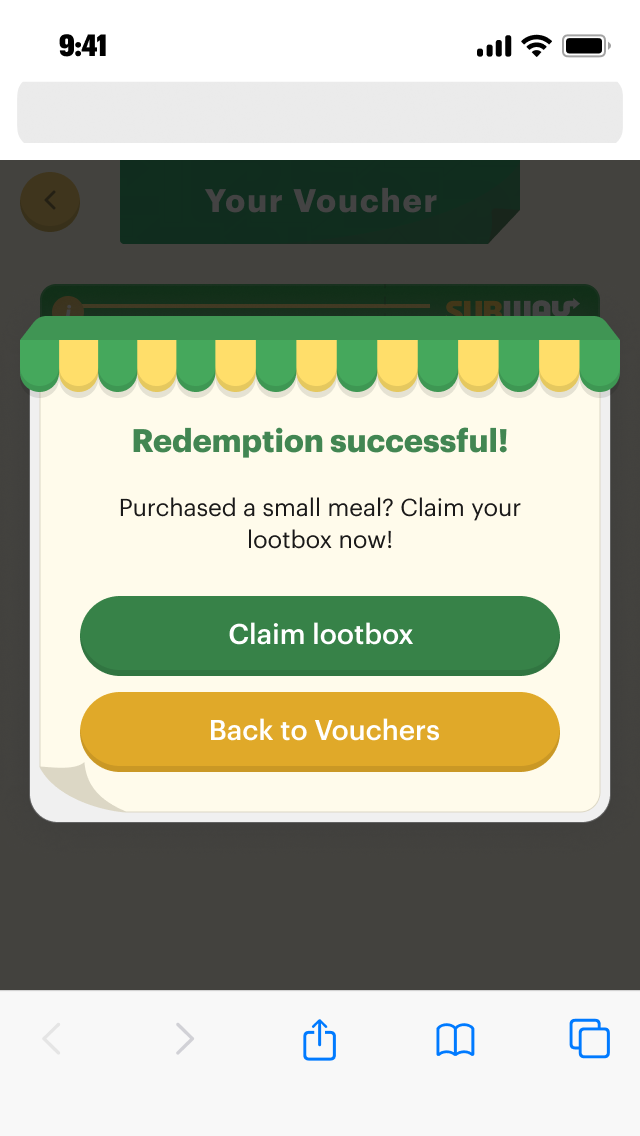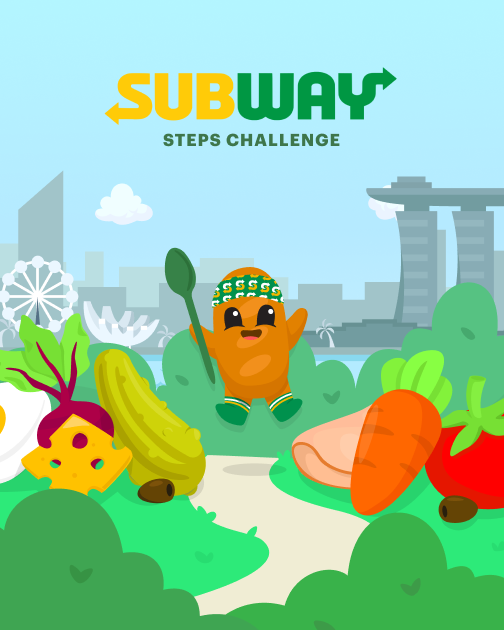 #2 Retaining user's motivation
The game design thrives on ambiguity - users wouldn't know what exactly is needed to actually create, say, an Egg Mayo sub.
This was solved by proposing two new features into the design, known as the Notebook and the Travel function. These were ideas that were opposed by the Game Designer but fought for by the UX Designer, for an enjoyable user experience
The Notebook
The Notebook was championed for as a way for users to 'remember' what they have created before and how they went about creating it. It also gives clues and hints to the users on which sandwiches are actually part of the game and how they can go about creating that particular sandwich. This helps to retain users as users have a place to go back to create successful subways or to at least try to create the subways that are part of the game.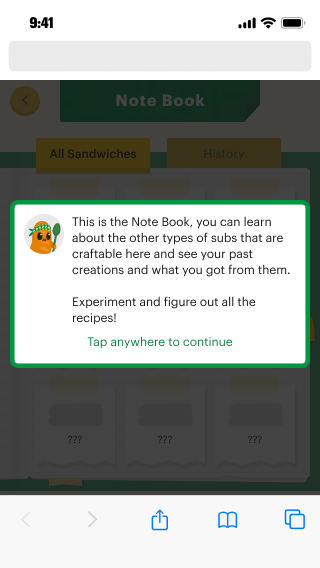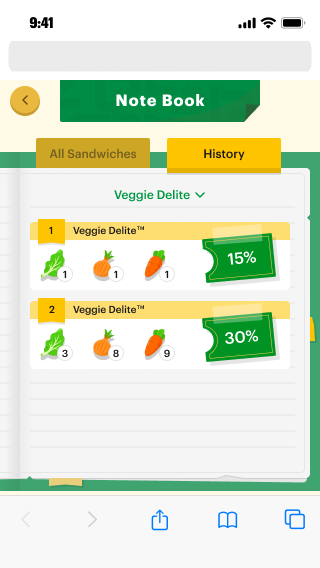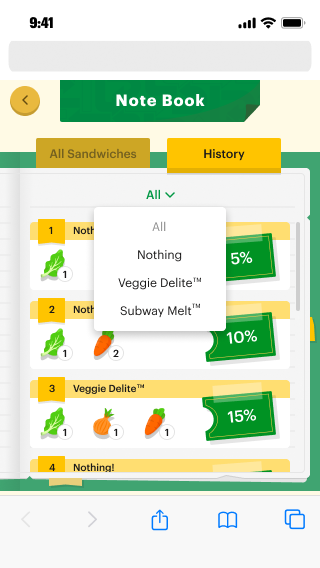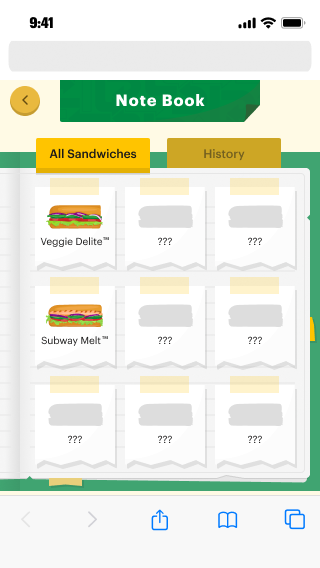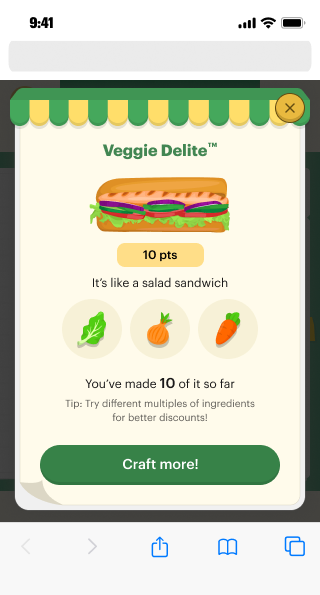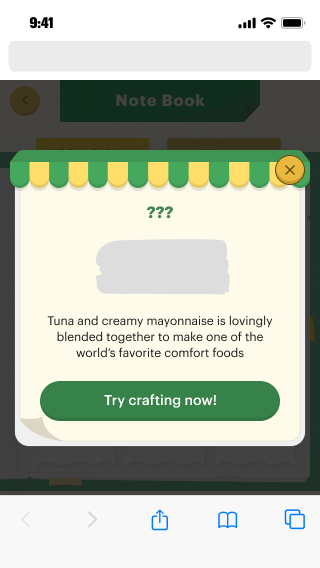 Travel
Travelling is a way to retain users as users will not be able to find their desired ingredients in all locations. Certain key ingredients will be made more prominent in one location than another. This incentivises users to travel / walk beyond their regular places e.g. places near their home, and thereby achieving the goal of encouraging a healthy lifestyle. It also creates a sense of excitement to continue the game as users will always be in a 'hunting' mode.